Yesterday we took a quick look at what we are to treasure. We saw Jesus condemn the man that thought it was wise to store up his wealth as if he had forever to spend it. In fact, not only are we supposed to use whatever wealth we have in God's service, we are to be good givers as well. Good givers are the kind that give without expecting anything in return.
Here are five ways we are supposed to give: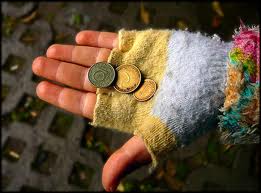 Liberally (Luke 6:38)
Sacrificially (Hebrews 13:16)
Cheerfully (2 Corinthians 9:7)
Purposefully (2 Corinthians 9:7)
Secretly (Matthew 6:3-4)
If any one of these adverbs are left out of the act of giving, the meaning and the benefit is diminished. Take your giving to the next level and see how your heart follows!
Daily Bible reading for September 19
Psalm 49
2 Samuel 9
Ezekiel 9
Luke 12:49-13:9