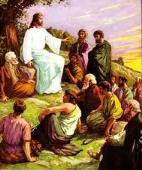 One of Paul's key phrases for describing a Christian's relationship with Christ was to say that The Christian is "in Christ". He used this phrase at least 150 times in his letters! Once we are in Christ, we are a new creation – our sins bought and paid for. (2 Corinthians 5:16-17)
So how do we get into Christ? There is but one way:
Do you not know that all of us who have been baptized into Christ Jesus were baptized into his death? – (Romans 6:1-4)

For as many of you as were baptized into Christ have put on Christ (Galatians 3:23-29) (See also How to be Abraham's Seed)

For in one Spirit we were all baptized into one body—Jews or Greeks, slaves or free—and all were made to drink of one Spirit. (1 Corinthians 12:12-13)
You will not find another way to get into Christ in the Scriptures than through baptism. If you have been taught otherwise, I hope you can start with these passages (and also look at my Plan of Salvation page) and dig a little deeper in the matter.