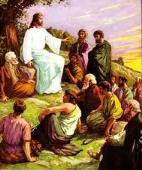 Jesus looked directly at you!
Sitting in a crowd of fellow followers you notice he makes eye contact with every person. Then he announces:
"Here are my mother and my brothers!" – Mark 3:34
Jesus wants to adopt each and every soul to his family. To get in, there is a simple requirement:
For whoever does the will of God, he is my brother and sister and mother. – Mark 3:35
Doing the will of God takes a lifetime of dedication.
But then, so does keeping any family strong.