Previously we considered the great responsibility of Bible teachers and the powerful position they are in. Depending on their words, they can set the course of another person's salvation.
Although James 3:1 starts the chapter with a warning to teachers, James 3:18 ends it with the wonderful result of a Bible teachers work: "a harvest of righteousness sown in peace." Many of us who were raised in the church can remember our Sunday school teachers. I can even remember where I was when I learned some of my Old Testament History: the walls of Jericho, Samson and Delilah, David and Goliath ….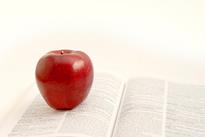 It is the work of those teachers that helped get me where I am now.
It is very challenging to be a teacher, but the greatest challenge may be maintaining a proper attitude. A combination of things from the mood of the class to the ultimate goals of the teacher have an impact on the students. If you read and study James 3:13-18, you see exactly what I mean.
Wisdom born from jealousy and ambition leads down the false path. James spent a lot of time in chapter 3 showing us how powerful the tongue is. Misusing it bears the fruit of disorder and other vile things.
Wisdom born from meekness is "from above" and is demonstrated in good works. Those works look like the seven or eight things listed in James 3:17. Topping that list is purity and peace. Jesus said that the peacemakers will be called the sons of God. (Matthew 5:9)
That, fellow Bible teachers, is why we do it. Despite the warning of stricter judgment, teachers of God's word are in the highest office offered in this lifetime – they are the peacemakers and therefore the candidates to be God's children! The next time you have the opportunity to teach a Bible class, take it on knowing the church depends on your work.
Daily Bible reading for October 30
Psalm 90
1 Kings 22:1-40
Zechariah 3
James 3:13-18