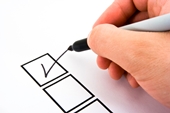 I mention Paul's lists a lot. They are a great way to break his writing down to get the gist of what he is trying to say.
My favorites are usually at the end of his letters in the form of exhortations. They were meant to encourage and command the basics of Christian living. (1 Thessalonians 5:12-22, Ephesians 6:10-18, Galatians 5:22-23, etc.)
The list in Philippians 4:4-8 is a favorite with many probably because it punctuates the theme "Rejoice!" The Christian that can develop the traits and habits listed here will be one who will stand above his peers.
They will help us develop peace.
They will give us security and a stress free lifestyle.
Bonus
Here are some previous posts on this passage. These posts are broken out of a sermon I once did on this passage.
Paul's Recipe for Reducing Stress – Rejoice
Paul's Recipe for Reducing Stress – Kindness
Paul's Recipe for Reducing Stress – Just Ask
Paul's Recipe for Reducing Stress – God's Peace
Paul's Recipe for Reducing Stress – The Good and Spiritual
Paul's Recipe for Reducing Stress – Godly People
Paul's Recipe for Reducing Stress – Forget Possessions
Paul's Recipe for Reducing Stress – Christ