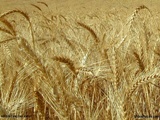 A hot furnace tests silver and gold, but the Lord tests hearts. – Proverbs 17:3 NCV
John answered, saying unto them all, I indeed baptize you with water; but one mightier than I cometh, the latchet of whose shoes I am not worthy to unloose: he shall baptize you with the Holy Ghost and with fire: Whose fan is in his hand, and he will throughly purge his floor, and will gather the wheat into his garner; but the chaff he will burn with fire unquenchable. – Luke 3:16-17 (KJV)

When talking about chaff,  I'm thinking of the military version rather than the husks and stems in wheat. Chaff is a very simple and effective defensive weapon used to fool missiles and other devices that use radar. It is comprised of flakes and strips of material that are highly reflective to the radar signals. The net result, without getting too technical, is that the target is obscured in a way that causes the devices to miss it.

If we look at all of the opportunities that the world offers us to entertain ourselves and otherwise fritter away the short time we have on this earth, one might say that Satan is launching chaff in defense of our goal to get to heaven. Nothing is wrong with these activities in and of themselves, but how much time has the television, the Internet, the video games, etc. taken away from our visitation, our Bible study or our family time?

Even if we are good time managers, many of today's activities are desensitizing us to things that should be offending us. Even so called family shows and cartoons are riddled with innuendo and "mild" curse words.

Just like an experienced RADAR operator can pick out his target in the midst of the chaff, we need to keep our sights on the goal we became Christians to seek. When the chaff is "burned away," will you be on target?


Other posts from Proverbs 17:

Other posts from Luke 3: